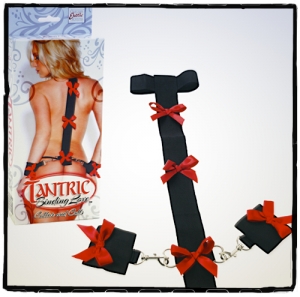 In the spirit of the critically acclaimed best seller, Fifty Shades of Grey, California Exotics has released an extensive tantric and fetish line complete with massagers, hog-ties, cuffs, eye masks, pleasure whips, oils and much, much more.  Luckily, I got hold of their sought-after product, the Tantric Binding Love Collar and Cuffs.  And boy, was it lovingly binding!
When you first see the Tantric Binding Love, it's simply so aesthetically pleasing.  In fact, when my man saw this number on me, he was initially turned on by how it fit and tailored to the back of my figure.  Along the spine lies red satin ribbon bows, which are similarly accented on the cuffs.  The piece itself secures on the neck and wrists and are held together by Velcro closures and non-tarnishing, nickel-free, heart shaped T-rings for intimate play.
But perhaps what I loved most about this product is the way in which it appeals to both men and women.  The red bows make me feel pinned up like a bondage babe, while for my partner, the ribbons make him feel like he's bed himself a virgin vixen.  Oh, the power of tiny, sweetheart bows.
So for all of you on the verge of tantric teases and bondage balls, I strongly recommend the Tantric Binding Love as a stepping stone and even a staple in your wardrobe of fetish play.  Buy it NOW or assume a spanking in your future!
Yours truly,
Scarlett Stone
Follow Scarlett on Twitter!